About The Game
Wiki

The game world of "Klondike: The Lost Expedition" will take you to the times of Alaska Gold Rush with its unique atmosphere and charm. The amazing graphic design of the game is notable for the rich colors of nature, picturesque scenery of locations, and true-to-life style of buildings and decorations. Klondike will introduce you to the everyday life of Far North peoples and show you the ways of explorers and gold miners. Read more...

Welcome to the Klondike Wiki, an unofficial resource site created and maintained by the community. 29,751,215 users have helped the wiki maintain 5,163 pages.

Contribute
Anyone can contribute to this wiki! See Contributor Central for discussion, editing guide, and more.

Community
Join the game discussion on the Klondike Wiki Facebook Page!
Quick Links
Glossary of Terms

Story

Mechanics

Update Schedule

Treasure Troves

Sled Upgrades

Misc. Items

Dungeons

Countdown Locations

Sand League

Wooden League

Cloud League

Flower League

Thunder League

Sun League
Event
Yukon Bank | Event page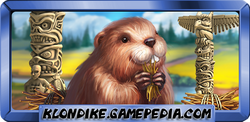 New Creature Event
During the event period, set out to the Yukon Bank to help restore the sacred Totems. Find Totem Fragments in hides under the Stone Idols and restore the relics. Setup the Detectors and fins all the Ancient Chests with wooden beads. Use wooden Beads to summon a new special animal: Beaver!
News
[2017-03-21]
[2017-03-21]
[2017-03-21]
| Facebook Feed | Latest Activity |
| --- | --- |
| | |