In order to travel from place to place you need a sled. Sleds can be upgraded with faster and stronger dogs in order to go farther and to hold more cargo. This page contains information about how to obtain and maintain sleds.
Sleds Available in Klondike:
The following list contains the sleds currently available in the game arranged according to capacity.
Dog Feeding / Navigation 101
Out of dog food?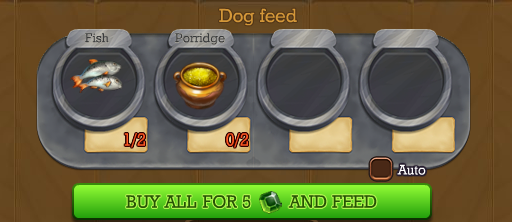 Sometimes a player will run out of food while on an expedition and cannot return to their main town. When this happens, there are two options:
Pay the emeralds in order to feed the dogs.
Unload all items to the storage building at the player's current location and then select the HOME tent icon on the bottom left corner of the game screen. If no storage location is available at the player's current location, the ENTIRE load of cargo will be dropped and lost forever. Items required to access locations such as the Tent,  Sleeping bag, Rope ladder, etc are NOT discarded with the cargo.
Travel Routes:
Station to
Indigo – 63 km 
Diamondland - 84 km
Wind's Song - 89 km
Ukhty – 140 km
Aery - 190 km
Polar-Side – 246 km 
Wind's Song to
Indigo – 127 km
Diamondland – 99 km 
Station - 89 km 
Ukhty – 64 km
Aery – 124 km 
Polar-Side – 165 km 
Ukhty to
Indigo – 155 km 
Diamondland – 108 km 
Wind's Song – 64 km 
Station - 140 km
Aery – 153 km
Polar-Side – 168 km 
Aery to
Indigo – 245 km
Diamondland – 224 km
Wind's Song – 124 km
Ukhty – 153 km
Station – 190 km 
Polar-Side – 69 km 
Polar-Side to
Indigo – 293 km
Diamondland – 261 km 
Wind's Song- 165 km 
Ukhty – 168 km
Aery – 69 km 
Station – 246 km